There is nothing that fills me with both excitement and dread then hosting during the holidays. I love having family and friends to our home and yet the pressure of having the perfect home decor, stunningly set large dining table, and being the perfect host gets me anxious. But I have found over the years that the only thing that helps in my confidence is asking myself a few questions that clear my head and get me on the right track.
"What are the essentials that I value? "What is my current seasonal inspiration?" "What will encourage warmth and love in the smallest of details?"
I know it sounds crazy but it helps! It helps me create MY home and MY experience that only I can do. So here are a few tips for the ultimate host.
1. PERFECTION IS OVERRATED

Before we even get started on how to make things pretty (and hopefully less stressful) always remember that something will go wrong. On my wedding day all those years ago someone told me that 3 things will for sure go wrong. Unless it's more than 3 don't freak out and roll with the punches. Honestly, I have found that advice to be true in any event! So have a back up plan and maybe a glass of your favorite beverage ready and waiting. Cheers to mishaps.
2. SCENT IS A MEMORY MAKER AND A REMINDER

When it comes to a clean home, beautiful decor, and making epic memories - scent is a must. Wether it be candles, electric diffusers, or a beautiful reed diffuser I always have a small closet of options ready for the unveiling.
The Powder Room
A diffuser freshly flipped fills the room up and leaves it smelling fresh the whole night through. (Sometimes I even go in half way through and flip again - for that added little punch of freshness). I would opt for Hinoki Lavender or a Canvas if I had to choose.
The Living Room/ Party Lounge
Candles (usually a 3 wick) with a citrus or woodsy scent is lit about an hour before for ultimate scent throw. My faves are Earl Grey Bitters, Sea Salt Grapefruit, or Black Cypress. In my book you can't go wrong with any of them.
The Kitchen/Heart
This baby is where the food is made. So I don't light much while cooking. The smells of my blood, sweat, and tears should be enticing enough. But once its all cleaned up and I pour myself a glass of wine, I'll light the same fragrance I have lit in the living room. Makes me feel like my home will always be associated with that "signature scent".
The Bedroom/Coat Closet
I know these are not normally used but often enough they are the unofficial "coat room" or the room for nosy family members/friends who will wander in to check out what you have done and how you live. Please remember to tidy this space and light a candle or plug in an electric diffuser (the PURA device is a favorite). I opt for a little more woody so Charcoal or White Vetiver is a great choice.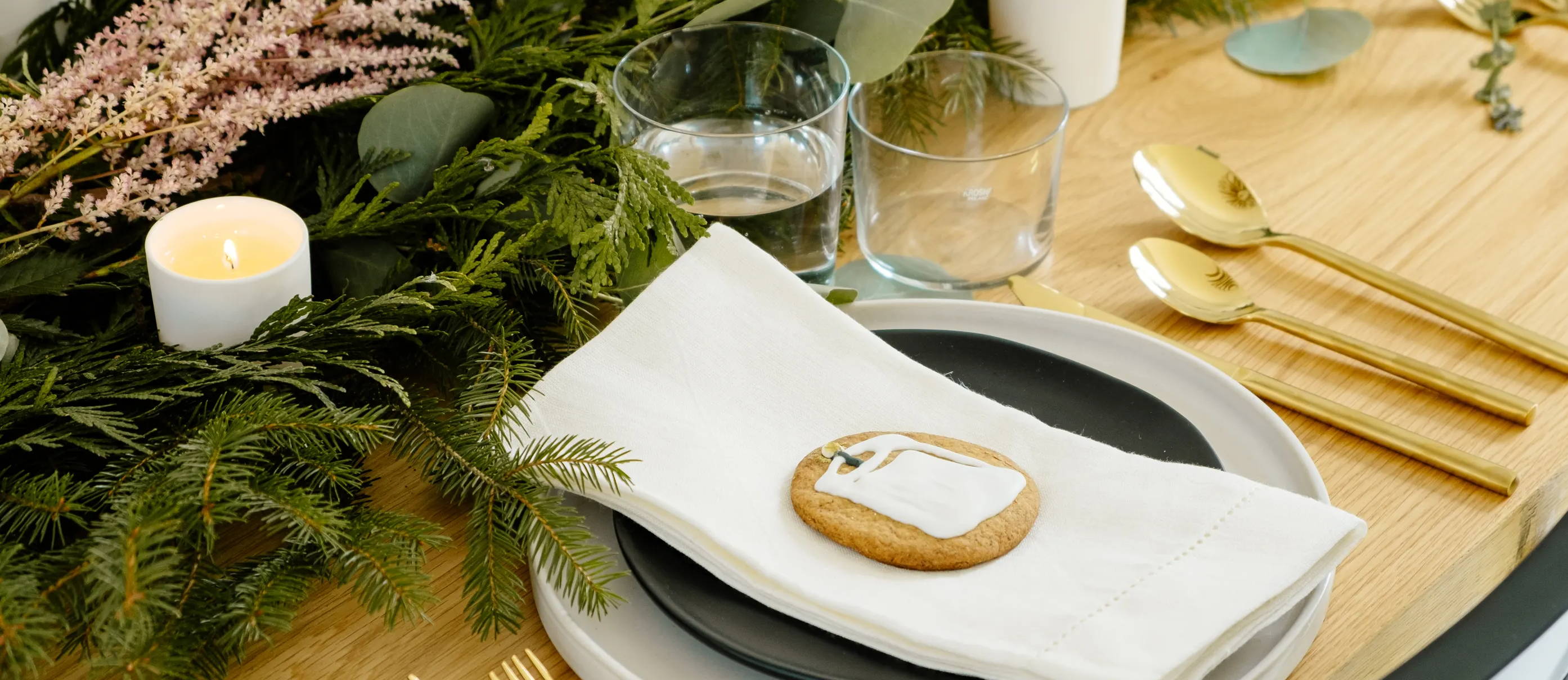 3. FAMILY IS FOUND. THE BIGGER THE TABLE, THE BETTER.

Is it just me who has nightmares of not having enough chairs? Or too many empty ones with people cancelling last minute? How rude. Either case remember that the minute you make someone feel welcome, that is what defines the holidays at home. It simply is a gathering place - wether it be 2 or 20. I usually do pick out my plates and napkins and name cards but I also keep spares of 2-5. The greatest gift you can give someone is inclusion. Imagine showing up to someone else's holiday last minute being greeted with a smile and you sit down at the table only to see there is a place with your name on it! I may just cry out of joy.
4. BEAUTY IS IN THE DETAILS

Here is the fun part. The pretty essentials. All the elements when hosting make up a "story" of the night. So I have a quick checklist that I go through just to make sure I got all of the feel good moments done. My top add ons to make it special are flowers, fragrance, and Favors
Flowers: These guys don't have to be crazy. A little bud vase goes a long way. I put these in my bathroom, bedroom, living room, and on the table.
Fragrance: We have touched this one earlier but remember to put one scent in every room. If the rooms are joining stick with the same one. If they are not - have a blast!
Favors: This little guy can cover a lot but what I mean by this are little things that guests will remember. I love pretty name cards if there is a crowd of people. A kind note on the table setting saying why I am thankful for them is another option. The real icing on the cake is having Tupperware ready for leftovers for them to take home. (Yes I said it and yes, you can laugh!) I come from an Italian family who cooks way too much food - so I always order some extra to go containers for the turkey, or mashed potatoes, or whatever it may be. Going home with a warm meal always is a great gesture.
Have fun and make all of these things - your own! Just remember to find joy in what you are doing.
5.LAST BUT NOT LEAST. DON"T BE THE HERO.

Although we do have a vision for hosting and planning. Remember to try not to do it alone. Grab a friend to help you cook, or 2 or 3 to help you clean. Make the night not just impressing people but doing life together. Hosting is a not a game of pretend. It's not the "instagram moment" (well maybe sometimes). But it's an extension of YOU and your tribe.
Best Luxury Candles of the Year
Author Jess Hong /   Published: Sept-22-2021