In Collaboration with:
FRAMED FLORALS
Author Carli Lampley / Published: Mar-08-2021
TAKE A PEAK AT THIS SEASONS BEST SELLER
We had the absolutely pleasure of collaborating with the kind heart behind Framed Florals, Lacie. She has always been an inspiration to us and we have loved keeping up with her newest creations. Her attention to detail and ability to prolong the life of flowers is breathtaking. In honor of spring, women, small business owners, and the importance of community we partnered with Lacie to bring the fragrance of spring "to life". So sit back, grab a cup of coffee, light a candle and read a bit more of what it looks like to live a well balanced and creative life.
Hi! I'm Lacie, owner of Framed Florals! I was born in Brooklyn, raised on Long Island, and have been living in Brooklyn for the last 13 years! Greenpoint is where I both live and work, it's without a doubt my favorite neighborhood! I'm married to my firefighting husband, and we have a tiny 10 year old poodle named Tony! When I'm not pressing flowers I'm usually reading (trying to match my 45 books I read last year with a new goal of 50 books this year!), visiting an art museum, or watching reality tv at home!
When you were a kid, what did you want to be when you grew up?
When I was little I had a few dream jobs, either veterinarian (def wasn't going to happen, I have such a fear of anything involving needles and surgery), author (also wasn't going to happen, I love being more of a reader than a writer), or artist. It took many weaving ways that are the complexities of life to lead me to one of them as a flower preservation artist!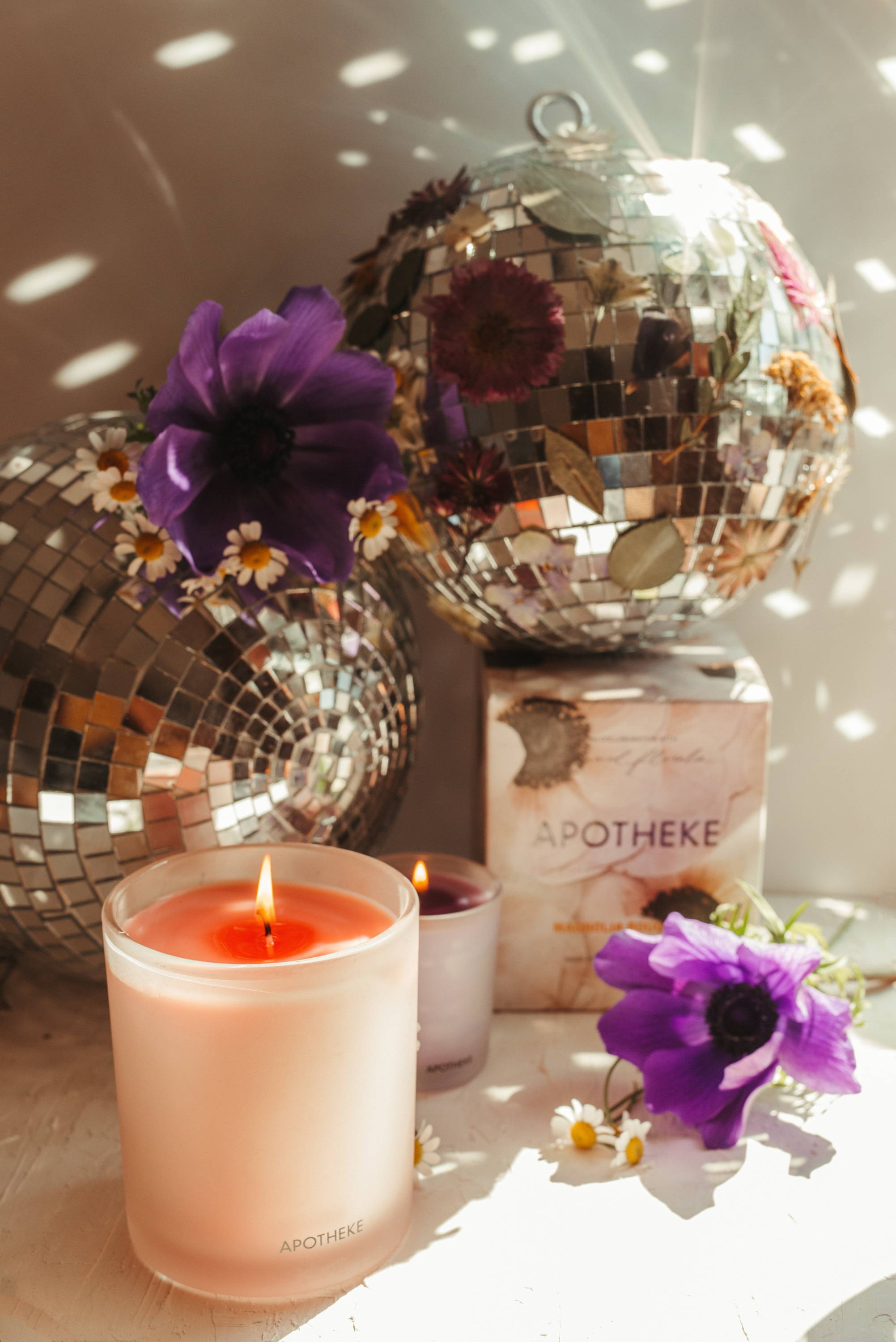 Was there an "aha" moment when you knew you wanted to become a flower preservation artist? How did you transition into becoming a business owner as well?
Looking back, my biggest "aha" moment was in the year before launching my business. I was in school, and teaching, and I just knew it wasn't something I could see myself doing for the long haul. Flowers found me at the perfect time in my life, I couldn't be more grateful!
What does a typical day look like in your world?
Coffee to start, always!! I'm lucky to live close to my studio so I walk here in the morning while listening to a news/current events podcast. Depending on the day I'm usually either meeting clients at the studio to get their flowers to press, working on framing, designing frame mock ups, responding to emails, making a visit to the flower district, or a combination of all of the above! What I love the most is that my days can be as flexible, structured, similar, or different as I need them to be. I'm always happiest if I'm home in time to watch Jeopardy, or get a happy hour drink, or take a long walk to decompress! I'm lucky to be surrounded by such beauty all day but some days can be jam packed and tiring so I like to balance it all out!
Framed Florals is unique in that it takes something that could seem outdated and make it beautiful and modern again. Giving flowers "another life". What hole did you see in the market that you wanted Framed Florals to fill?
Thank you!! That is the exact vibe I was trying to achieve when I found flower preservation. I love what artists have done before me, but I was looking to put my minimal, modern, and Brooklyn spin on it! The hole in the market was for sure the minimal aspect! When I was searching for flower preservation options for my own wedding flowers I found a lot of fully dried bouquets and shadow boxes that wouldn't fit in my small Brooklyn apartment, so I worked to create a product that would fill that need! I was so happy to find so many others felt the same pain points and were looking to bring nature inside in a minimal, modern, and sentimental way! It's evolved to being more than just bouquet preservation, with retailers and interior designers carrying my frames!
Any big dreams of how Framed Florals will grow? Or change?
Totally! Like I touched on, things have evolved from what was just bouquet preservation to offering custom collections of frames for interior designers, retailers, and now even with this collaboration, expanding to brand partnerships and mediums outside of frames! I love that it's changed overtime, just like I have! Wedding preservation is always going to be super important to me as it's how I honed in on my craft, skill, and artistry, but I'm excited to expand so much further beyond that!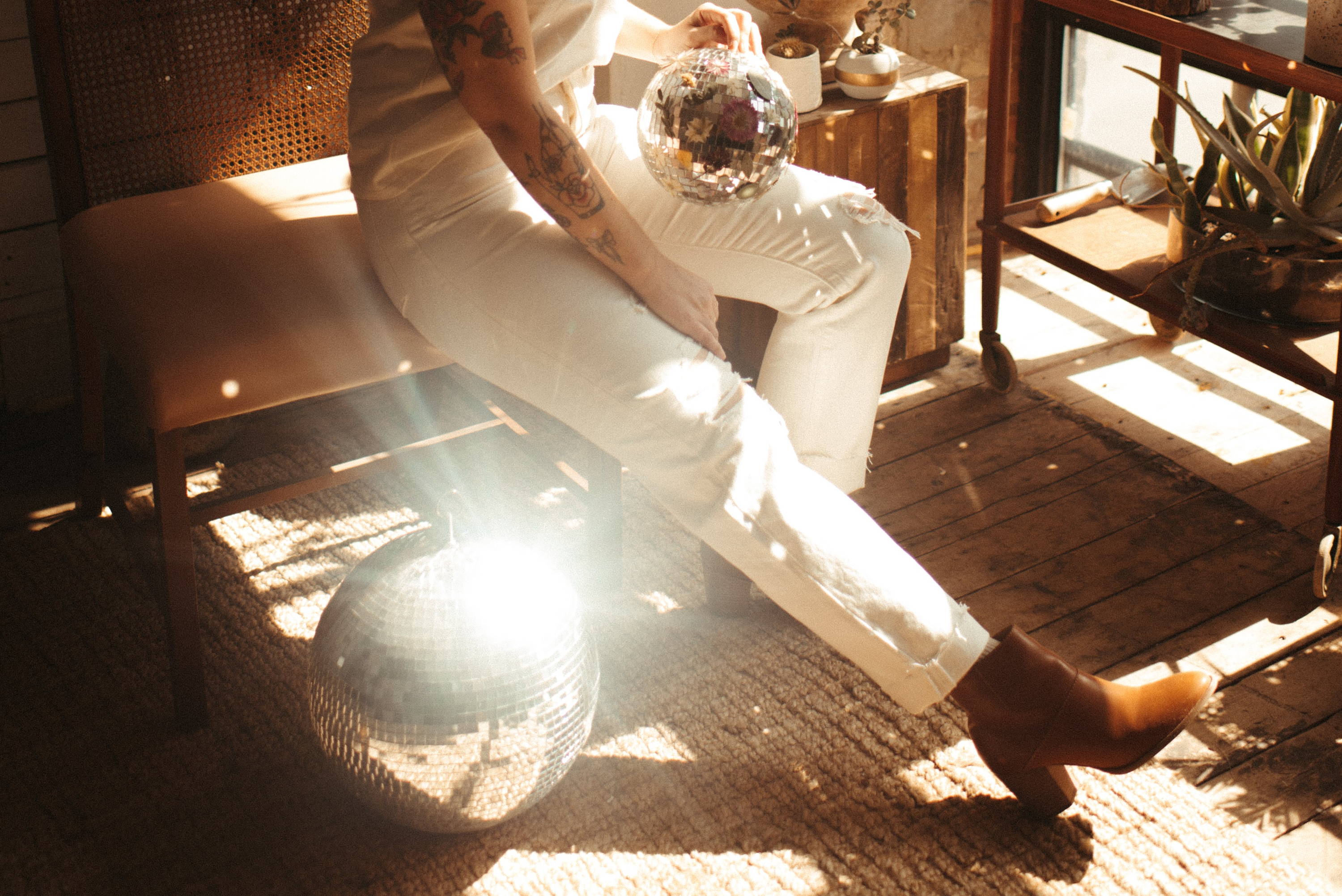 What do you enjoy most about owning your own business? What do you dislike?
I love being my own boss!! I feel like I never knew this was the perfect job for me until I was fully in it, but I really love it. I love having total creative freedom, being able to fuse my progressive views with my art, take a random Friday off from work to go for a hike, collaborate with creatives and friends, learn more about flowers daily, and challenge myself beyond what I ever thought I was capable of doing! Okay now with that said, everyday isn't a total dream and the thing I dislike the most is when I do have to give up control and rely on things out of my control (suppliers timelines, UPS/USPS shipping issues, even typing that gives me slight panic in my heart!) But I have been so fortunate to have the most understanding and flexible clients when anything does run behind or needs to be adjusted!
What inspired you in the project with APOTHEKE?
Working with APOTHEKE has been the ultimate dream project. After the year we've had, I've found creativity in thinking of warmer, healthier, and more relaxed days ahead. Flowers that relax and calm, peaceful moments at home, the strong women in my community, have been sources of inspiration through it all!
What advice would you give to other women who want to take a passion project to a full time job?
My best advice on taking a project to a full time job is to hone in on your "why" and the passion behind starting! I think a lot of running a business is beyond just the fun parts and instagramable moments, it's a lot of work! But if you're driven, super passionate about what you're doing, and willing to work for it, then you definitely found your dream job! I hate the word "networking" as it feels impersonal but I think spending time to create a community of people to support you and for you to support is so important! Try not to spend money on frivolous stuff for your business until it's necessary, and go at it intentionally and smart! It's okay to keep a "real" job while you work on it part time, work out all the kinks, and make sure you can financially swing it. Snag the insta handle, ask your friends and fam for their opinions (but take all opinions with a grain of salt), talk about it until it becomes a reality, don't try to replicate anything similar, and get really excited!
Your favorite place in New York?
After being in Brooklyn through the entirety of the pandemic, McCarren Park, my local park has become my favorite place. It's become like my backyard and living room all in one. I've seen it empty as can be at the height of the pandemic, clapped alongside my neighbors at 7 pm for essential workers, full of socially distant picnics, I participated in Black Lives Matter protests there, silent vigils through June & July, a huge party the day the election results were finalized, after the big snowstorms full of the most creative snow sculptures, spotted the local McCarren hawk flying around, and I was even in the park celebrating New Years outdoors! This tiny little sliver of nature in my neighborhood represents the resiliency, community love, and embodies the Brooklyn spirit!
Knowing what you know now, what advice would you give to your younger self about life? and career?
So many things I wish I could say to my confused, messy life, younger self! First off, start wearing SPF daily! And once you do that, don't be afraid to take a deep breath and evaluate where you are and where you want to be going in your life. Trust your gut, it's going to be the most important thing for your life, career, relationships, in everything, to trust and listen to going forward!
---
"The Home I Hope for my Children"
by Brittany Chatburn
Author Brittany Chatburn / Published: Apr-20-2021