SALLY MONTERROSA ON SISTERHOOD
Author Amanda Demelo / Published: Feb-04-2021
TAKE A PEAK AT THIS SEASONS BEST SELLER
Musician, artist, grad student, mom of two, entrepreneur and owner of Boho Hair Salon, Sally Monteroso knows a thing or two about juggling multiple hats. When the uncertainty of 2020 began to unfold, Sally was in the midst of opening her second location for the modern and welcoming, more-than-a-salon, Boho Hair Salon.

2020 didn't deter the opening , albeit delaying it a bit. Inspired by community for women, Sally's next goal was to start her own subscription box - Sisterly.

Apotheke got to chat with Sally about her experience developing Sisterly in the midst on a pandemic while also balancing marriage and motherhood.
When you were a kid, what did you want to be when you grew up?

I have always loved music and the arts. I always dreamed of becoming a professional singer.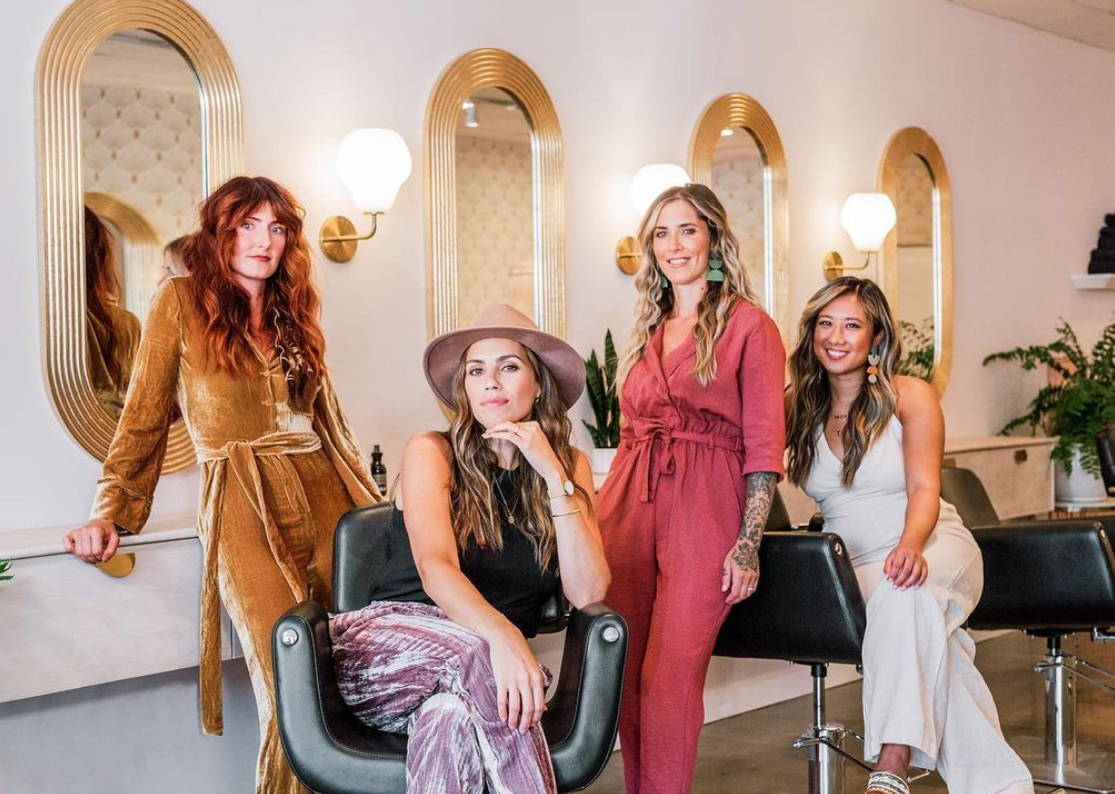 What does a typical day look like as a wife, mom, business owner, entrepreneur, and student?
Time management is key in order for me to be able to be as good as I can be in everything that I do! I wake up early at 6am, try my best to squeeze in a workout, cook dinner ( yes in the mornings), get my kids ready for school, get myself ready and drive them to their school ( which is 30 min away) and head to one of our business locations in either Asbury park or Montclair. Since I am also in school, depending how long my drive is on a specific day, I listen to my online classes in the car. I am so fortunate to get to work with my husband since we are business partners, so I make sure to find a moment and connect throughout our day whether that be a quick lunch or some time to chat over the phone. I get home, spend some time with my kids, wrap up some emails, house chores, work on school and try to be asleep by 10pm! The more I take on, the more sleep I feel I need to fully function. So my days are very busy to say the least. In the midst of it all I find little windows for self care and connecting with family and friends.
You opened Boho's second location in the middle of a pandemic! What was that process like?
Wild and definitely emotionally overwhelming. I had to completely surrender to that particular season and trust the timing of it all. As scary as it was as we waited for when we could open, I had a really good feeling we would be ok in the midst of it all. I truly felt we would open at the perfect time when people were craving connection and start feeling good about themselves again.
What is the most valuable thing you have learned personally and professionally in 2020?
I honestly learned so many valuable life lessons in 2020 I will carry on for the rest of my life.
I think for me it was the spirit of gratitude. The overwhelming sense of gratitude for my family, my health, my community and my job in the midst of the chaos and uncertainty. Focusing on gratitude brought me a lot of peace in my life. The stretch was and is unlike anything I have experienced, but it allowed me to grow so much and I appreciate that for sure.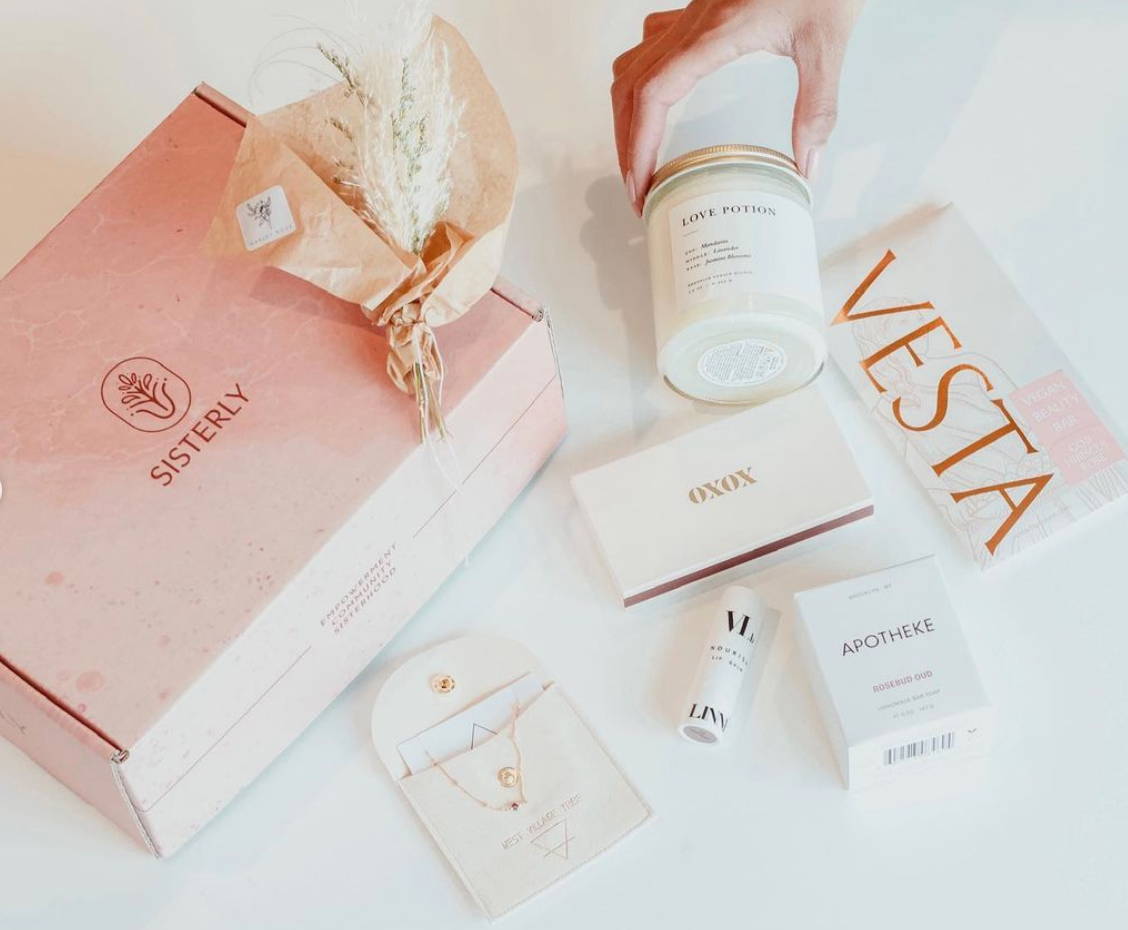 How did the idea for Sisterly come to be?
Sisterly was born out of a mission we are already exercising through our other businesses like the salon and the cafe. Our mission has always been to empower women from all walks of life to dream and help cultivate relationships between them. Many small businesses like my own have been forced to depend on our community during these difficult times. The idea of creating a box came from the mere reflection of my experience as a female entrepreneur and all of the people that have helped me along the way. My hope for this box is that it helps create connections between women from all over and different backgrounds and inspires women to dream and sets forth new and everlasting relationships. A portion of every box sale goes back to our very own communities who are actively being a resource for women and children.
Everything you do includes your unique business model that is to empower women and create space for them to find community through lifestyle workshops. What hole did you see in the market that you wanted Sisterly to fill?
Having been in the Hair Industry for over 20 years, I felt disconnected to its culture and feeling uninspired about the idea of just styling hair in a salon for the rest of my life, and it did not make me feel complete. I began to search within and pick apart the pieces of what I love most about my job, and for me it was speaking life into women and creating an atmosphere that was healthy, inspiring and empowering all at the same time. I feel in order for us women to fully feel ready to step into where we are meant to be, our foundation must be built on confidence, integrity and happiness. I felt the need to create a space that would stir up dreams, connect women to one another through all of the things that we love. A place where you can feel and look beautiful, feel confident to be bold in life, and feel and be transformed by the power of kindness, love to ourselves, and to one another. This to me is what it is all about. I want to reinvent the salon space and overcome any spirit of competition and infuse a new culture of community that is everlasting and one that will change lives.
Why is sisterhood such a critical piece?
I believe that women are the future of change in our world. We are multifaceted beings that are strong, resilient, intelligent, creative and filled with compassion. A sense of togetherness should be taught very early on to girls to break the spirit of competition, insecurity and fear. If we can teach young women that what you bring to table along with what I can bring, together we can break down barriers and make amazing things happen. We need each other now more than ever. I believe that when we build bridges with one another through sisterhood, many lives, our communities and our world will be transformed. We hold a special key.
What do you enjoy most about being a mom?
I love, love being a mom! A girl mom specifically! I love being able to see the world so fresh from their perspective and being such a huge part in shaping these girls' lives to be leaders of kindness, generosity and change. I love what it has taught me about myself and my revelation that you could be a mom, and still live out your dreams. I do believe working gives me a beautiful balance that allows me to be me, live my dreams and still be the mother I wish to be for my children.
What advice would you give to moms who are feeling
the pressure of juggling a lot on their plates?
I would suggest to avoid getting caught up with feeling that you have to measure up to anything because of what women your age are doing, the social media highlight reels. There is no such thing as "arriving" to our final destination. We are ever growing and ever evolving. I say show yourself some grace, prioritize what matters the most and be patient. As long as you commit and keep working hard at what you love, it will unfold beautifully- and at the right time.
What is your favorite Apotheke product?
I personally love the amber woods scent, specifically the diffuser. The way our place feels, looks, smells and sounds is very important to me! We love how Apothoke compliments our space and the experience we provide our guests.
BLACK HISTORY MONTH: RAY HALL FROM RED HOOK RISE

Author Amanda Demelo / Published: Feb-11-2021